Profile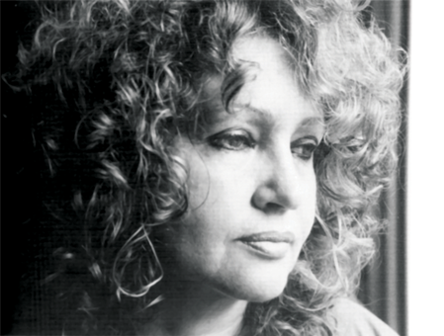 Daniella Sheinman was born in Tel Aviv in 1947. During the early 1970s, she studied painting and sculpture at the Avni Institute, Tel Aviv, under Yehezkel Streichman, Moshe Propes, Yaacov Wexler, Moshe Sternschuss and others.  Her art studies followed studies in English and American literature at Bar-Ilan University, Ramat Gan.
Sheinman works in a studio located in a hangar on Moshav Mazor, where she draws, paints and creates installations and video art.
She has exhibited in one-person exhibitions in museums in Israel and abroad, including the Ludwig Museum, Koblenz, Germany; The Open Museum – Tefen Industrial Park; the Museum of Israeli Art, Ramat Gan; the Haifa Museum of Art, and in galleries (Gordon Gallery, Tel Aviv; Mark Gallery, New Jersey; and Morgen Contemporary, Berlin).
Sheinman's works are on display in public places such as the Meir Nitzan Performing Arts Center Rishon Lezion, the Sheba Medical Center at Tel Hashomer, and the lobby of the Plaza Hotel in New York City.
During the '60s and '70s, Sheinman was making figurative paintings in oils on canvas, but in the '80s, following a meeting with the late Chaim Kiewe, she turned to abstract painting in acrylics.
"As time goes by, I shed layers, trying to arrive at the core of things.

We can never see the entire picture; we always have to choose:
if we stand back, we will see the whole;
if we draw nearer, we will better see the details.

Every choice involves a concession."
In another turning point, Sheinman abandoned her rich coloration in the 1990s to paint in black and white only, using graphite to draw lines on large-scale canvases, almost etching the lines into the canvas. Sheinman's graphite lines have formed her unique handwriting, which has characterized her oeuvre over the past two decades.
In her own words, "When I made the transition to black and white, I felt that the basic painting had no more need for color to cover it. Graphite on canvas reflects the precise truth of the essence of my artistic statement, which is why it must remain as is."
The events of 9/11, against the background of the cumulative experiences of the intifadas in Israel, left a deep impression on Daniella Sheinman, and is expressed in her works. She made a series of paintings reflecting the huge impact and the anxiety in facing the chaos and anarchy of our world. The series was exhibited at The Open Museum – Tefen Industrial Park as part of an installation comprising sculptural elements and video art.
In recent years, the motif of the forest is evident in Sheinman's work, with images reflecting the alienation of our lives in the contemporary global technological world. Her previous forest paintings were on canvas and paper, but now they have taken on an additional dimension as Sheinman incorporated transparent materials such as plexiglas and glass into her work.
In her exhibition  String Line she  exhibited her large installation with transparent "pillars" made of plexiglas cylinders printed with Sheinman's paintings. Viewers had to walk around and through the space, encountering various elements, and facing the challenge to examine  the experience of reflection and transparency in contemporary times.
The artist developed the motif of the forest in video format, projecting a forest, complete with its strange creatures, onto the exhibition floor and surrounding walls. Video art surrounded viewers on all sides as they walked through the gallery, making the audience blend into the installation to become an integral part of her creative output.
Daniella Sheinman's  recent project touches upon our very inner being:Sheinman's work evolves around images that bear a strong resemblance to neurons, cells that processes and transmit information through electrical and chemical signals. These cells are part of the most defining actions of the human entity such as bring information to or send information from the brain region.   In Sheinman's landscapes of lines and outlines, constructed intricate junctions of black,conveying  a memory of mortality and vulnerability we prefer to ignore.
Sheinman's recent project  consists of large graphite on canvas and paper works, on small ink drawings on tracing paper shown on Lighit boxes and of an interactive Video installation.