Meaning of life
by Beate Reifenscheid. 1998, Ludwig Museum in Deutschherrenhaus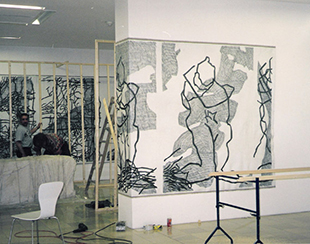 In Daniella Sheinman's installation Interior space however, confinement, fear, chaos and terror prevail. As soon as the visitor enters the installation in order to perceive its implicit order, he is locked inside the cage. He becomes a victim of his desire for intuition. He will realize too late that he is not the distanced spectator of someone else's story, but a witness to something that turns out to be his personal biography.
This ambivalence between the general and individual can also be found in the drawings of the cycle, which skillfully reclaim a realm between pure abstraction and referential figuration.
Daniella Sheinman's cycle does not begin in the Garden of Eden, in paradise. It starts with the fall of Man, the loss of innocence and the subsequent expulsion from paradise. It opens with a thunderbolt, announcing agitation and inner conflict as a leitmotif. In the first two drawings, figures are depicted inside a rectangle symbolizing a door or gate. In the third drawing the theme of the expulsion becomes manifest: Adam covers his face and walks with his head bowed in shame. The echo like repetition of the figures of Adam and eve is accompanied by the recurrent motif of a gate that is gradually poised and threatening to fall. In the initial eight drawings Daniella Sheinman depicts the expulsion from paradise no less than six times. Entangled in a dense grid of lines, the characters seem to be alienated or imprisoned in a web.
Several aspects of interpretation come to one's mind when looking at the entire ensemble.
The cycle of drawings itself offers a different level of interpretation. It depicts the development
Of man after the explosion from paradise, but it also depicts the rebirth to a state of awareness that is the origin of love and creativity (and maybe artistic creation in particular) and humanity.
The allusions to music and dance bring Wagner (and his reflections on Nietzsche) to one's mind. The Installation refers also to an important cycle from the turn of the century: Gustav Klimt's" Beethoven Frieze" in the "New Secession" in Vienna, which was created in 1902. Its theme is not just a transformation of music into painting; it is also a hymn to life.
The viewer is forced to witness this narrative through he confinement of the bars he participates in it and experiences it in a successive perception. There is almost no going back.
He becomes a prisoner of his emotions, he is finally confronted with his own (German) history, the history of   National Socialism and the Holocaust.
The artist is actually reluctant to emphasize this aspect. It is almost impossible however, to avoid this association.  In the ambivalence of death and hope the installation combines the memory of the ineffable atrocities of the past with survival in the present time. Daniella Sheinman deliberately associates death with survival, creativity and humanity as harbingers of hope.