Israeli Venus in Germany
Eran Tifenborn, Berlin. Yedioth Ahronot 22 June 1999. Israeli artist Daniela Sheinman plays with life and death across the ocean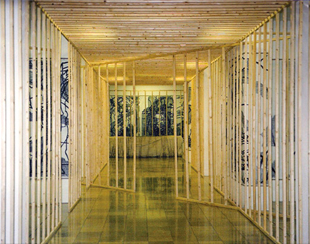 The exhibition of the Israeli artist is making waves in Germany.
Daniella Sheinman, a resident of Ramat Efal, was invited to present the exhibit, "Interior space" in Koblenz, near Frankfurt, and visitors to the exhibit can not remain indifferent.
Sheinman is a guest artist at the Ludwig Museum, one of the most highly respected collections in Europe. The museum's branches are scattered throughout the cultural centers on the continent, and it is claimed to be standard- setter in the art world.
Sheinman's exhibit deals with life. In this way Sheinman "hit the Germans over the head with a 5 kilo hammer", in the language of one visitor.
The artistic treatment of Germany by Jewish artists is typically connected to death, due to understandable historical reasons.
Sheinman's exhibit was a surprise in that she chose life from a fascinating perspective; the borders of life, or, more accurately, what can be said about life from an external point of view, from the point of view of death.
The installation,' Interior Space' is spread over a large floor space in the museum. On the top floor Sheinman displayed three private Variations on the famous Botticelli painting, 'Venus Rising from Sea'. Sheinman's Venus appears on three canvases light blue, green and pink- purple.
The exhibit, as well as Sheinman's artistic path, was followed by former Prime Minister Shimon Peres who also dedicated a text in the catalog.
Whoever hurries can still catch the exhibit until 4th of July.